Sake.re: credits
First the credit goes to those who provide description experiments to Sake.re.
People who have contributed the Sake.re development:
Bilal Lahmami created the initial Docker wrapper and documented it;
Yasser Bourahla developed the first notebook and help enegineering the publishing process;
Clarisse Deschamps did the first work on transforming markdown exported from gforge to jupyter notebooks;
Jose-Luis Aguirre Cervantes continued this work by developing precise translation of these descriptions;
Jérôme Euzenat did all the rest...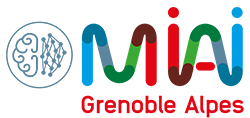 The development of Sake.re has been partly supported by the MIAI project (ANR-19-P3IA-0003).
The Docker icons are from Icons8.